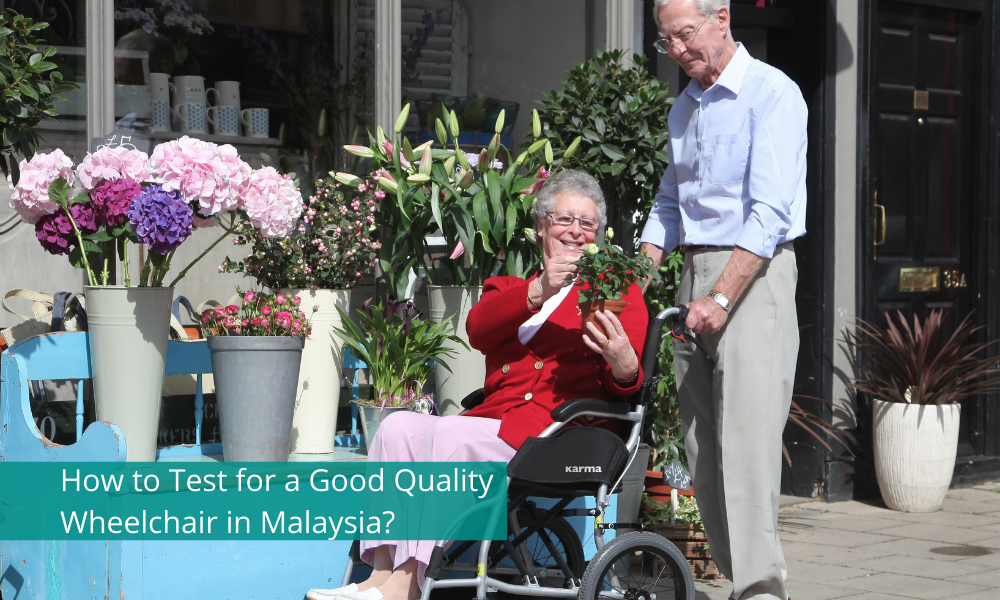 Before you buy your wheelchair, be sure to read this! 
If you rely on a wheelchair to get around day-to-day, it's safe to say you'll be spending a fair amount of time in the seat. So finding the best option is incredibly important and that begins with a thorough test – a wheelchair is an investment after all. 
Previously, we provided tips on how to identify a good quality wheelchair that offers value for money. In this next blog, we'll share what to test and look out for when you or a loved one are selecting a new wheelchair. Read on to find out the three key questions to ask.
Is the wheelchair comfortable and supportive?
One of the best pieces of advice we can offer is to spend ample time sitting in your preferred wheelchair. Then, sit in different models for comparison. You should also try out all the functions just as you'd normally use them. Listen to how your body responds during this experiment – it will tell you what's best. 
Your ultimate goal should be avoiding unnecessary pressure or pain, except this can be tricky. There are many points of contact where discomfort can arise. Just think about it – the head, neck, and shoulders make contact, through to the waist, lower back, buttocks, down to the thighs, calves, and feet, and even the elbows. 
The key to prevention involves an ergonomic seating system made to support the user in all the right places. Ergonomic designs such as KARMA's S-Ergo seating provide optimum support and even weight distribution for maximum comfort. By comparison, standard seating without built-in support creates unwanted pressure points, leading to discomfort and the potential for skin damage and infection. 
Essentially, seating that offers even pressure relief (as seen below) allows the user to sit for long periods in greater comfort.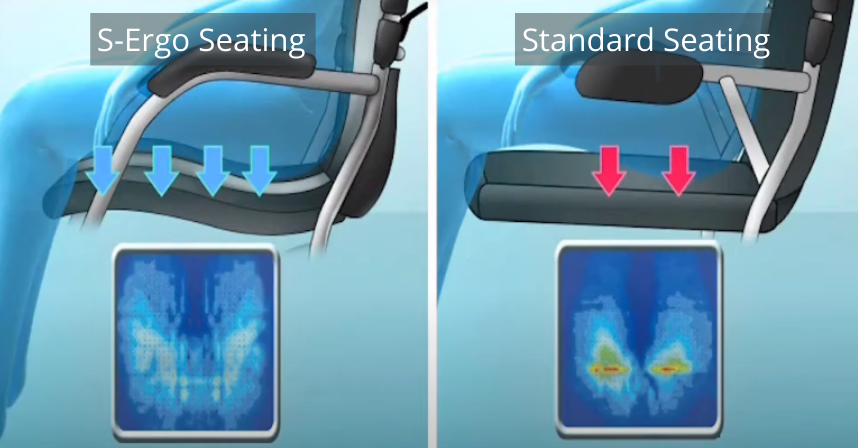 KARMA's patented S-Ergo ergonomic seating system evenly distributes the user's seating pressure. Whereas a standard seating system forces the user's seating pressure to be focused on 2 points of the user's buttocks. This leads to skin damage and infection. Source: KARMA Medical YouTube: S-Ergo 115
Not only does ergonomic seating like the S-Ergo system prevent discomfort in the buttocks and hips, but it also promotes good posture. Correct spinal alignment, in which the head and spine maintain a neutral position, has many important preventative health benefits. Good postural support prevents muscle tension, inflammation, and joint pain, thus mitigating injuries and general wear and tear.   
When seated in an S-Ergo seat, the user's natural lumbar curve is supported in combination with pressure relief for the lower body. This is much safer and comfortable than a conventional wheelchair seat which can encourage a rounded posture and pain over time. During your test, be sure to check the chair's features and the user's posture for evidence of good support.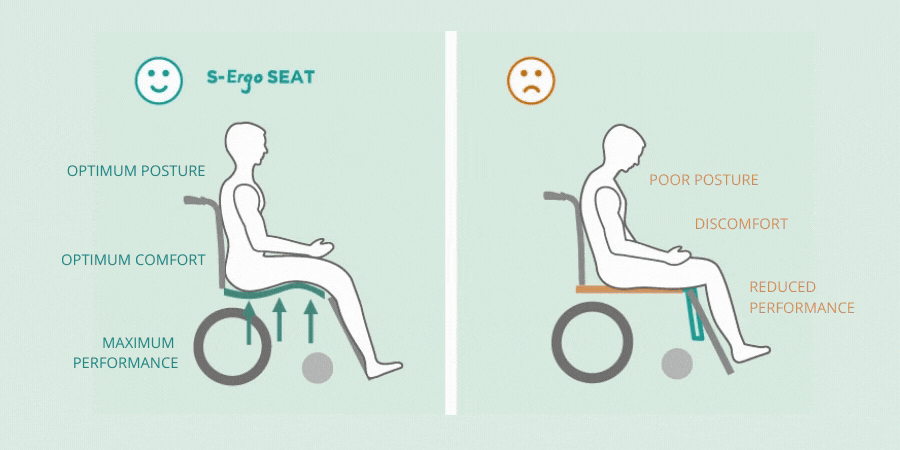 Left: The KARMA's patented S-Ergo seating system provides basic pressure relief so the user can sit for longer. Right: Standard wheelchair with little support. Source: KARMA Medical
Is the wheelchair easy for the caregiver to operate?
Often the role of the caregiver is overlooked when choosing a wheelchair. However, injury prevention should be of equal importance as it is for the user. This is especially true given any impact on the caregiver's wellbeing can affect their ability to give support. 
If you have a caregiver or are one yourself, be sure to choose a quality wheelchair that balances user comfort and ease of use. We recommend asking yourself the following questions to narrow down the best wheelchair.
Is it comfortable to push? Give the wheelchair a push and check the position of the handles – are they positioned at a reasonable height and comfortable to hold? Is the wheelchair comfortable to steer and navigate over curbs? If the wheelchair is properly designed, the rear wheel axle will be positioned to accommodate the user's center of gravity which makes it easier to control. You can also test this while the user is seated.
How easy is it to park the wheelchair? Some wheelchairs have the brake attached to the push handles, whereas others have to be activated directly on the rear wheels. If the caregiver is elderly, then consider a wheelchair with brakes on the push handles to save them repeatedly bending down. Maneuver the wheelchair, then test out the brakes.  
Is the pelvic belt effective? A pelvic belt is used to hold the user's pelvis in place and prevent them from sliding forward. Check that the belt is comfortable, effective, and easy to use.
Are the wheelchair functions attendant friendly? Check any positioning functions installed such as recline or tilt. Trying these functions for the first time in a safe environment is imperative to the user and caregiver's safety. See if they are simple for the caregiver to operate.
Lastly, is the wheelchair easy to transport? You'll want to pick up the wheelchair to gauge its weight – how easy is it to lift? Also, if you're taking the wheelchair out for trips, does it fit in the trunk of your car? These questions are worth asking to assist the caregiver.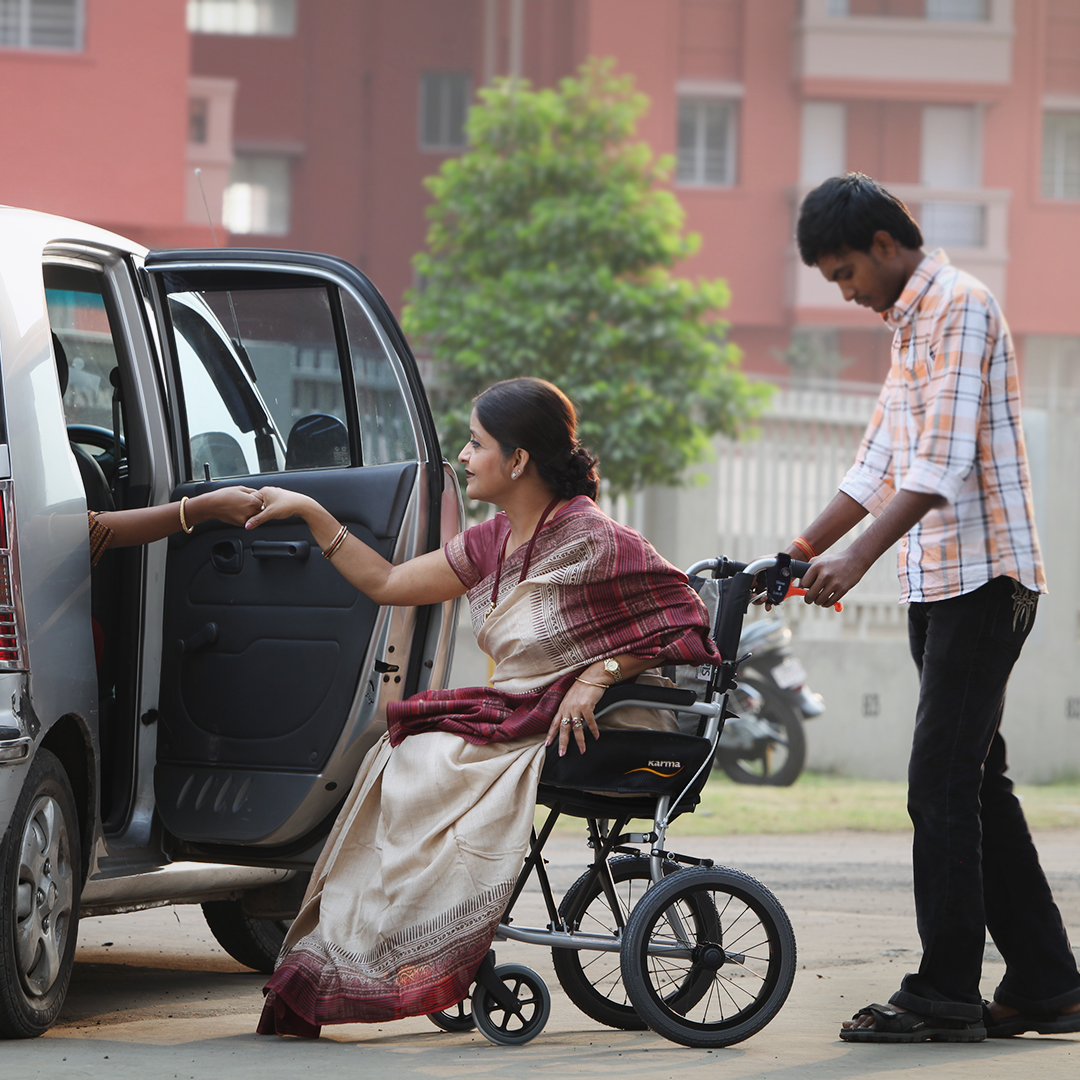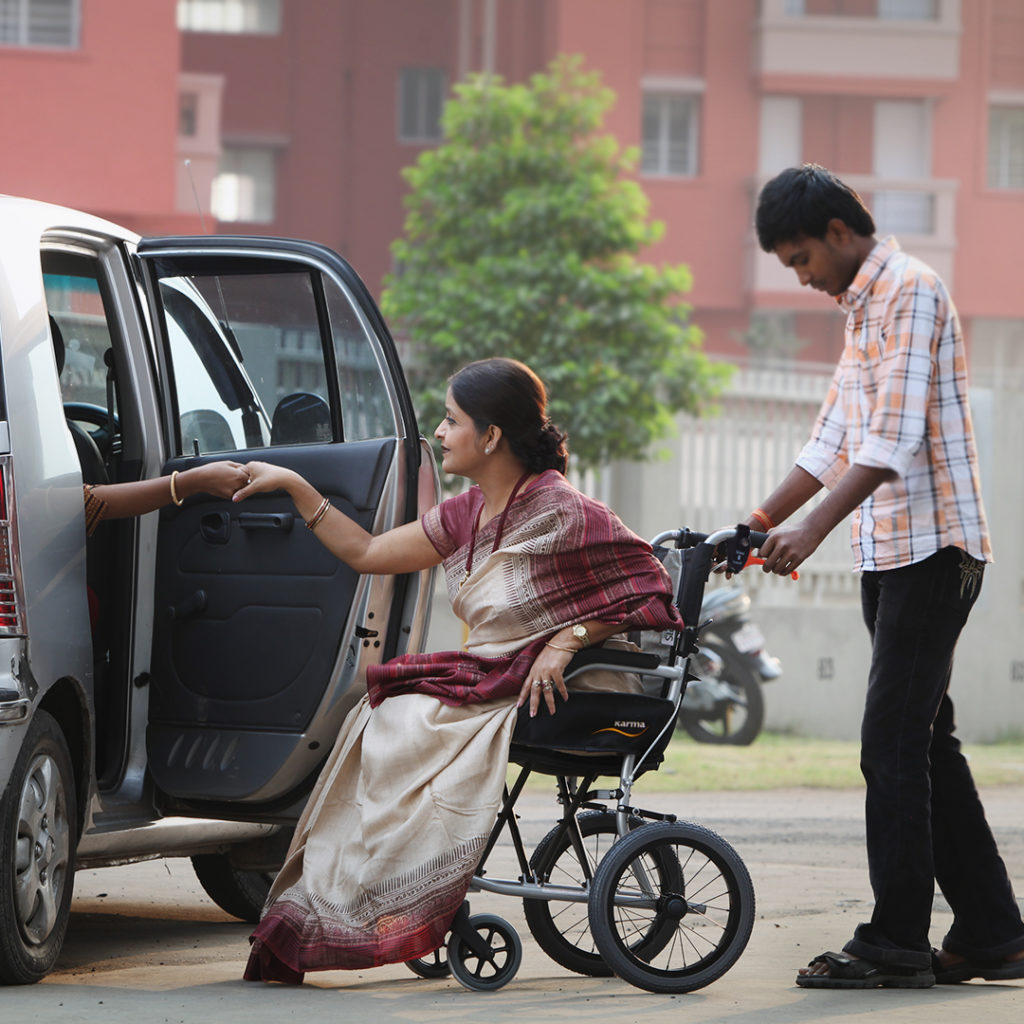 If the caregiver is female or elderly, a lightweight wheelchair that is easy to carry, fold, and operate is a must. Source: KARMA Healthcare India
What happens if the wheelchair breaks?
One important question that may not have crossed your mind is, "what happens if the wheelchair stops working?" It's all well and good that the wheelchair works initially, but you might get stuck if it breaks and you're unfamiliar with the supplier's repair policy. 
That's why it's imperative to find out about the wheelchair after-sales service. Before buying the wheelchair, it's important to confirm with the representative:
The duration and terms of the factory warranty 

Whether the supplier provides a repair service

Where the repair/after-sales services are located  
Knowing these answers ahead of purchase may help you reach a decision on the best wheelchair, and avoid getting stuck with a poor quality or faulty product.  
Here is our final piece of advice: some people may be eligible for a government subsidy which we recommend discussing with your therapist or a KARMA representative.
We're here to help
Finding a good quality wheelchair can seem daunting at first, but if you apply our tips and do your homework, we're confident you'll invest in the right one. 
KARMA Malaysia is always here to assist you in choosing the perfect wheelchair. Talk to a KARMA representative today! 
Call us: 03-5612 1921 / 010 – 238 1921
Email us: [email protected]