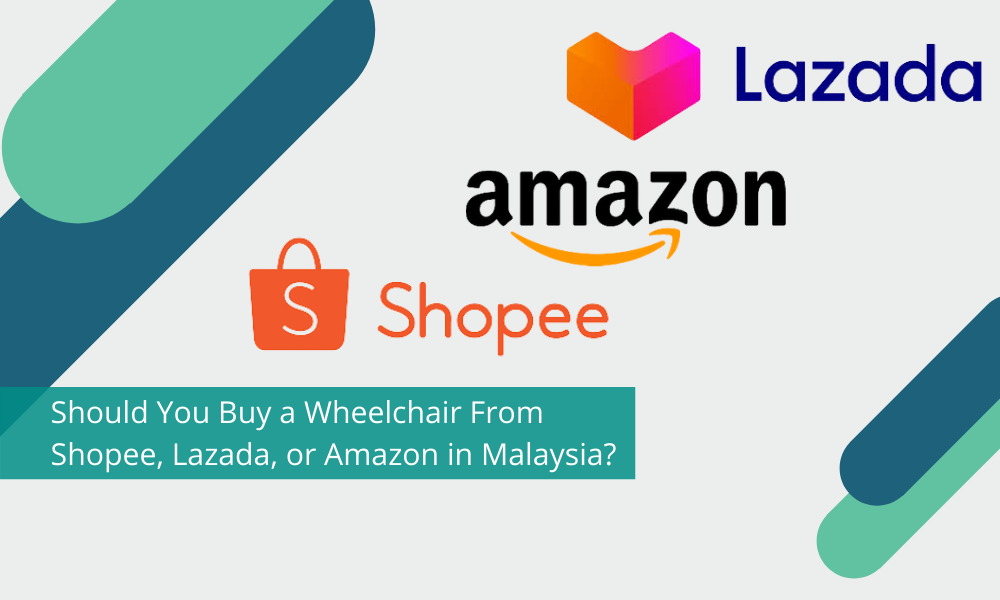 The answer very much depends on what the user needs a wheelchair for. To be used short term, after sustaining an injury, for example, a wheelchair bought online could be a decent option. For long-term users, we recommend users consult a doctor and therapist who has the relevant experience to recommend the correct wheelchair. 
4 Things you must know before buying a wheelchair from Shopee, Lazada, or Amazon
If a manual wheelchair is needed because the user is recovering from an injury, then buying a cheap wheelchair on the internet could be one option. Otherwise, the user could choose to rent instead of buy. Wheelchair rental is a sustainable way to aid recovery as well as save money. 
If the user needs a wheelchair for longer than 6 months and for long stretches of time, then we recommend buying a wheelchair that has been prescribed especially to the user. Whether it is for yourself or an elderly relative, sitting in a wheelchair that doesn't fit correctly for long periods of time can be uncomfortable, and risks the user suffering from secondary injuries.
An ill-fitting wheelchair is the number one cause of bad posture and pressure sores.

When you buy a wheelchair online the chances of getting a wheelchair that fits the user's exact measurements are next to impossible. When a doctor or therapist recommends a wheelchair, they take on board any special requirements as well as make any adjustments after the wheelchair arrives. 

Getting a wheelchair prescribed by a specialist is also the only way to claim it on the insurance. Getting the insurance money for the wheelchair will ensure that the user gets the right wheelchair for them and saves money in the long run. 

When a wheelchair is too large, the user will slide forward  which in turn will cause pressure sores and back pain.
Questions that must be asked when buying a power wheelchair online
Is there after-service?
Buying a wheelchair online from an anonymous seller is risky, especially something expensive like a power wheelchair. Since all electronics need after service at some point, be sure to know how the online seller is going to provide maintenance service before buying. Otherwise, the product might look affordable today, but you will have to pay more tomorrow.  
Who is going to do the product adjustments
There are a lot more settings and functions on a power wheelchair compared to a manual wheelchair. A lot of power wheelchairs are made to measure for the user which is why they can be more expensive. Depending on the user's lifestyle and disability, there are functions that can allow the user to stand, tilt, recline. Depending on the user's mobility range, there are different types of controls… The list goes on!
Are there any safety tests or warranty?
More diligent manufacturers will go through the process of having wheelchairs tested to ensure that they are up to the highest safety standard. These tests are a guarantee for the user to know that the product they are using is safe for everyday life. While retail shops are more compliant with these rules, online shops can sometimes be a blind spot. Thus, it's a good idea to ask for a safety guarantee before placing an order. 
Are power wheelchairs bought from Shopee, Lazada, or Amazon safe to use?
The safest way to buy a power wheelchair is with the advice and guidance of a doctor or therapist. Working with professionals allows the user to try out different types and brands of wheelchairs so they can find the one they are most comfortable with. The professionals will recommend the features that will enhance the user's lifestyle because they have the user's best interest at heart. 
We're here to help
Purchasing a wheelchair online comes with many risks. Talking to a professional will ensure that the user gets the wheelchair they need the first time. A knowledgeable professional will save money and minimize the risk of secondary injuries. 
Talk to a KARMA representative today! 
Call us: 03-5612 1921 / 010 – 238 1921
Email us: [email protected]