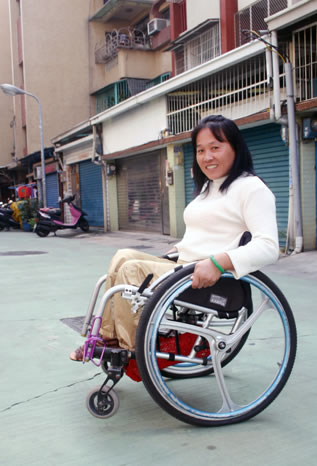 Be brave, face all the challenges that life throws at you and unlock your inner potential.
I am a sporty person. Archery, gateball, and table tennis are my favorite sports. Recently I discovered a new hobby: Wheelchair tricks. I've been practicing how to wheelie, make nimble turns, and other highly difficult tricks et cetera.
KARMA's AT20 matches my lifestyle perfectly since it offers bold and dynamic movements with agile handling reflexes and a stable body; I have never seen anything like it. I can't even think about doing anything without my AT20 because I love it so much.
I have a versatile lifestyle. KARMA's KM-2500L serves me nicely from waking up in the morning until I tuck in for bed. It matches my demand for dexterity and portability perfectly.
With me being the lady of the house, preparing dishes is one of my specialties.
I can now make meals on my own, and carry the plates and pans to the table by myself. How do I do that you may ask? The secret is in my KARMA KP-40. With this wheelchair, I can cruise over lounge and kitchen effortlessly.
Besides cooking, I also play a lot of sports. For the many years I've been actively participating in tournaments and championships and I have won many prizes. The trophy that I'm holding in my hands was awarded to me for taking 1st place in women's twenty-meter archery championships!
I believe if one handles everything with a positive attitude, they will become as great as they ever can be. Be brave, face all the challenges life throws at you and unlock your inner potential.
♦ Issued by Mrs. Hung from Kaohsiung, Taiwan @ December 2008
Others are interested…
Featured Products