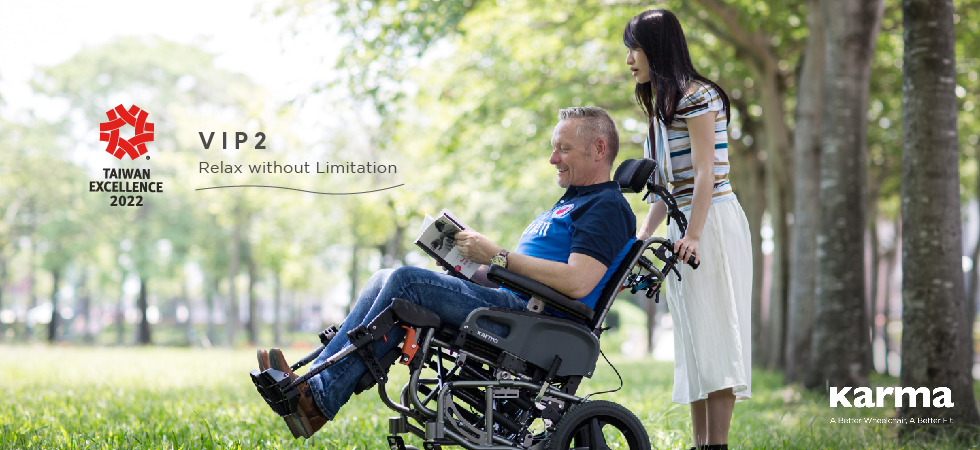 Amongst 1,200 candidates, KARMA's 2-in-1 positioning wheelchair, VIP 2, won the 2022 Taiwan Excellence Product award. The 30th award ceremony was held by the Taiwan External Trade Development Council in Taipei this week. The Assistant Manager of Brand and Marketing of KARMA Medical Products, Elsa Chung, was there to receive the award.
The Taiwan Excellence Award is a great honor (like the Oscars of Taiwan's technology industry). Each of the winning products was selected by hundreds of experts in various fields and judged by design, quality control, and marketing strategy. KARMA's product stood out from the artificial intelligence and cloud technology products based on the rapid aging trends.
KARMA "Fit" is the core principle of its products. Besides providing convenience and freedom of mobility devices for the elderly and disabled, KARMA also cares for the needs of caregivers. To face head-on the aging tsunami wave that cannot be ignored.
VIP 2: 2-in-1 Reclining and Tilting Wheelchair 
VIP 2 is a 2-in-1 manual wheelchair that provides Recline and Tilt-in-Space functions, so it can support the user to sit for a long time without sliding, and simultaneously release hip pressure. This can also reduce the time and energy which caregivers spend to adjust the user's posture. The dual effect of preventing the occupant's body from shearing and excessive skin rubbing due to lying down, reduces the chance of bedsores. Tool-free flip back armrests are convenient for caregivers to move the occupants easily; the foldable design makes storage easy and simple.
VIP2 Reclining and Tilting Function
KARMA Medical was founded in 1987, under the principles of its namesake philosophy, taking action to spread positive energy and enrich the lives of others. Over the last three decades, all 900+ members of the KARMA family, across 13 global facilities, have worked together tirelessly to perfect the "KARMA Fit": a set of guiding principles, by which we design and manufacture every KARMA wheelchair, mobility scooter, and walker. Our global cooperation with users, healthcare professionals, and government officials further drives our technological innovation to the industry forefront, empowering millions of people around the world with the ability to live their lives to the fullest. 
Visit my.karmamedical.com to learn more about KARMA.